You are here: Home: CCU 3 | 2003: Yehuda Patt, MD
| | |
| --- | --- |
| Yehuda Patt, MD | |

Professor of Medicine,
Chief, Gastrointestinal Oncology Program,
University of Maryland School of Medicine
Chief, Ambulatory Center at the Greenbaum Cancer
Center, University of Maryland School of Medicine

Edited comments by Dr Patt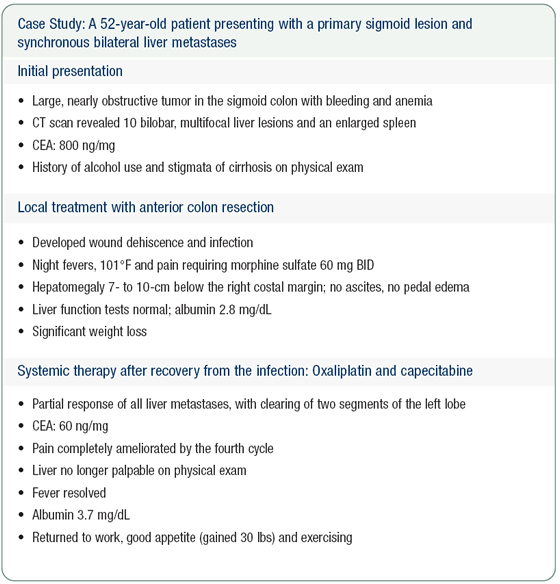 Management of the liver metastases
The metastases in the left lobe are receding dramatically. In the past, I would never have fathomed the possibility of subjecting a patient like this to a surgical intervention in the liver, but if he continues to respond, it's not impossible; the left lobe of the liver could be spared.
If this patient's disease involved only one lobe and he continued to respond like this, then in another two or three cycles, we would have resected the lobe that was previously involved with tumor. In this patient there is still tumor in the left lobe of the liver, so this will be a debulking procedure unless we achieve a further dramatic response.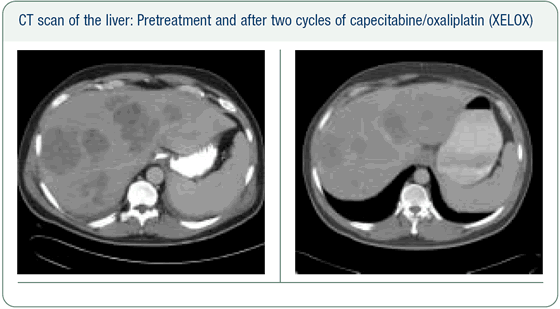 Management of patients with potentially resectable liver metastases
We are conducting a trial with neoadjuvant capecitabine/oxaliplatin in patients with resectable liver disease. Most patients with more than one metastatic lesion, or those with lesions requiring at least a lobectomy, would go on this protocol for neoadjuvant therapy. In contrast, patients treated at Memorial Sloan-Kettering would have their tumor resected first, then they would have a pump put into the hepatic artery to be treated with a combination of hepaticarterial chemotherapy and systemic therapy.
The advantage to using neoadjuvant capecitabine/oxaliplatin is that we have an in vivo test of drug sensitivity so we'll know whether the patient's tumor is actually sensitive to the chemotherapy, and it doesn't need to be given blindly or postoperatively. If the patient's disease does not respond to the neoadjuvant treatment but is still resectable — because the treatment is only for three cycles — then we do not administer the same treatment postoperatively. On the other hand, if the patient has explosive disease and within three cycles of treatment the disease is metastatic to other sites, one would not want to resect that patient's tumor because that would be an exercise in futility. This is our approach in patients with clearly resectable liver metastases.
Phase II capecitabine/irinotecan (CAPIRI) trial
We just completed a multi-institutional trial evaluating irinotecan administered on day one every 21 days plus daily capecitabine for 14 days and seven days of rest. We treated 50 patients and witnessed some dramatic responses — disease that was nonresectable became resectable. We had a confirmed response rate of 45 percent.
We had the option of administering irinotecan on day one and day eight, but it became evident from European data that giving irinotecan on the first day was more tolerable. In fact, the toxicity pattern that we observed was different. Diarrhea occurred in approximately 20 percent of patients and there was some neutropenia, but not the massive complications seen in association with the Saltz regimen.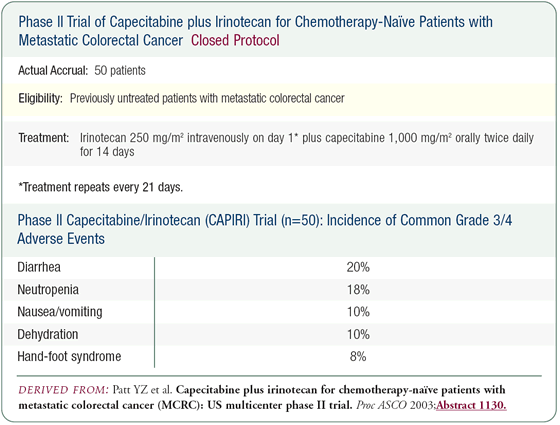 Capecitabine is preferable to 5-FU infusions for several reasons. Data from Europe demonstrated that continuous 5-FU infusions are probably better than bolus 5-FU. Rich Goldberg has shown that the continuous 48-hour infusion was better than the Mayo Clinic regimen, but the 48-hour infusion is essentially an extended bolus, not the continuous infusion that was recommended by Lokich.
With capecitabine, not only can you achieve continuous 5-FU serum concentrations, but there is also the enzymatic advantage of increased thymidine phosphorylase concentrations in the tumor, which increases tumor specificity.
Additionally, if I were a patient, I would definitely prefer taking pills rather than having a pump. There is a good pharmacokinetic rationale for capecitabine, and it is also associated with fewer complications than a catheter in the subclavian vein, such as a decreased risk of infectious complications.
Use of irinotecan and oxaliplatin in clinical practice
According to European data comparing the FOLFOX (oxaliplatin plus 5-FU/ leucovorin) regimen to the FOLFIRI (irinotecan/5-FU/leucovorin) regimen as first-line therapy with crossover on progression to the other regimen, patients who were initially started on FOLFOX had a greater chance of their disease becoming resectable. With FOLFOX, the quality of the response was better and the response rate was approximately 10 percent higher. Therefore, it makes good sense to use oxaliplatin up front. The question then becomes: How do we combine all the drugs we have today?
Apilot study, published by Falcone in the Journal of Clinical Oncology, evaluated the combination of oxaliplatin, irinotecan, infusional 5-FU and leucovorin in patients with metastatic colorectal cancer. That trial reported a 12 percent complete response rate — five out of 42 patients had disease that completely responded. The partial response rate was 59.5 percent (25 out of 42 patients), and the objective response rate (complete plus partial response) was 71.4 percent.
More importantly, complete resection of residual tumor was possible in 11 patients (26 percent), progression-free survival was 10.4 months and median survival was 26.5 months. Toxicities included: Grade 3 diarrhea in 21 percent of the patients, Grade 3/4 neutropenia in 86 percent of the patients or 16 percent of the cycles, and Grade 4 febrile neutropenia in 14 percent of the patients.
Even though they observed a good response rate, the question is: How do we combine everything we have today? Should everything be thrown in together? Should we use these drugs sequentially? We are now in an era requiring new trials to evaluate the three drugs either concomitantly or sequentially.
I recommend conducting Phase II trials before proceeding to Phase III studies. I don't even think that it would be rational to compare capecitabine/oxaliplatin to capecitabine/irinotecan in a Phase III trial, because all of the patients will be crossed over when they fail. We could never achieve a survival endpoint because all of the patients will be exposed to all of the agents.
Capecitabine in other gastrointestinal tumors
In a retrospective trial, we evaluated capecitabine monotherapy in patients with hepatobiliary cancers — hepatoma, cholangiocarcinoma and gallbladder carcinoma. Among patients with hepatoma, the response rate was about 15 percent — but there were only about 30 patients. Only eight patients had gallbladder carcinoma, of whom two had a complete response and two had a partial response. Sixteen patients had cholangiocarcinoma, of whom two responded.
We published a paper in the Journal of Clinical Oncology evaluating a combination of continuous infusion 5-FU and recombinant interferon-alpha in the management of hepatocellular carcinoma. Fifty-six percent (24/43) of the patients had liver cirrhosis. In the hepatoma patients, the response rate was only 15 percent but the median survival was 15 months. Based on that study, we decided to evaluate a combination of capecitabine and interferon.
We are launching a new protocol with the combination of capecitabine and Pegasys® (peginterferon-alpha-2a). The combination of capecitabine and interferon-alpha-2b resulted in a median survival of 15 months. This rate of survival in patients with hepatoma — even though the response rate is not high — is quite impressive. There is a very high rate of disease stability. It is a treatment that can be tolerated by patients with hepatoma, as opposed to cisplatin and anthracyclines, which are extremely dangerous in patients with severe liver cirrhosis.
We will also be assessing capecitabine in combination with oxaliplatin in other GI tumors. Previous trials have evaluated GTX — Gemzar® (gemcitabine), Taxotere® (docetaxel) and Xeloda® (capecitabine) — in patients with pancreatic cancer. I foresee benefits from agents like capecitabine, oxaliplatin and irinotecan possibly in combination with gemcitabine in various GI malignancies.